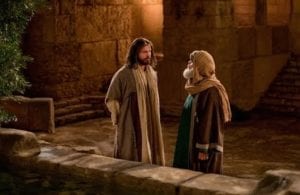 Jesus and Nicodemus
In Chapter 3 of John's Gospel, Nicodemus came to see Jesus under the cover of night. Nicodemus was a Pharisee, a member of the Sanhedrin, but unlike other Pharisees, he knew and secretly admitted that Jesus came from God. Unlike many people, Nicodemus did not come to see Jesus to ask for a miracle; neither did he come to spy on Jesus either; rather, he came to talk with Jesus. There is something about Jesus which compelled Nicodemus to come and see Him; something that Nicodemus could not ignore.
Jesus revealed to Nicodemus the importance of being reborn of water and Spirit. The Catholic Church understands the rebirth of "water and Spirit" not as physical birth, but as a spiritual rebirth through faith in Christ and the Sacrament of Baptism (CCC 782).
Jesus also revealed His mission to Nicodemus: that He came down from heaven, to be lifted up on the Cross, so that those who believe may have eternal life. (John 3:14-15)
God instructed Moses to build a bronze serpent which was lifted up on a pole in order to save the Israelites who were bitten by serpents in the desert (Numbers 21:4-9); it prefigured the lifting up of Jesus on the Cross, so that everyone who believes in Him may be saved.
Jesus also revealed God's judgment to Nicodemus: that there are those who prefer to live in darkness because they hate the light and they do not want their evil works to be exposed. On the other hand, there are those who live in the light and live in the truth, so that their good works may be seen as done in God. Those who believe in Christ live in the light and truth, and will not be condemned; but those who live in darkness have already been condemned because they do not believe in Christ.
From the Gospel of John, one can tell that Nicodemus sympathized with Jesus and His teachings. He first met with Jesus at night (John 3:1-21). Later on, however, he was the lone voice in the Sanhedrin who pleaded for Christ, reminding his colleagues that according to Jewish Law, they should not condemn Jesus without giving him a hearing (John 7:50-51). Finally, in the absence of the disciples of Christ, Nicodemus and Joseph of Arimathea, both took the body of Jesus and buried Him (John 19:38-42).
Some critics may say that Nicodemus was a coward for meeting with Christ at night, and for not openly following Christ like other disciples. Jesus said to His disciples and to the crowd, "I tell you, everyone who acknowledges me before others the Son of Man will acknowledge before the angels of God. (Luke 12:8-9)" Nicodemus did stand up for Christ in the Sanhedrin, and he took the body of Jesus and buried Him when the other disciples were nowhere to be found. Somehow, each disciple plays a different role in God's plan.
Nicodemus is venerated as a Saint in the Roman Catholic Church. Together with Gamaliel and Lydia the Purpler, their feast day is on August 3rd.
---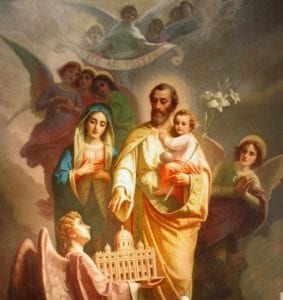 On March 19, 2021, Archbishop Gregory Hartmayer will consecrate the Archdiocese of Atlanta to the intercession and protection of St. Joseph. The Archbishop asks the faithful of the archdiocese to pray a Novena to St. Joseph. To fulfill the novena, the Litany to St. Joseph can be prayed for 9 days starting on March 10 up to March 19. This prayer can be found on our church website.
---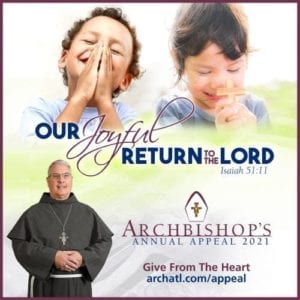 The Archbishops Annual Appeal (AAA) for 2021 has begun. As of this week, we still need $3,485 to meet our goal of $5,300. Thank you for your support!
---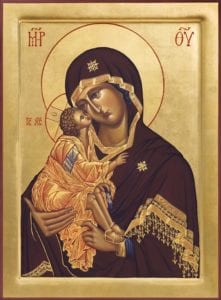 Miss Manuela Lu will conduct an Icon Drawing class for beginners from April to June, 2021. Classes will be on the third Sundays from 11:45am to 2:30pm.The goal of these classes is to cultivate sacred talents in the church. The classes are free of charge except for the materials used. If you are interested in joining this class, please contact Miss Lu.