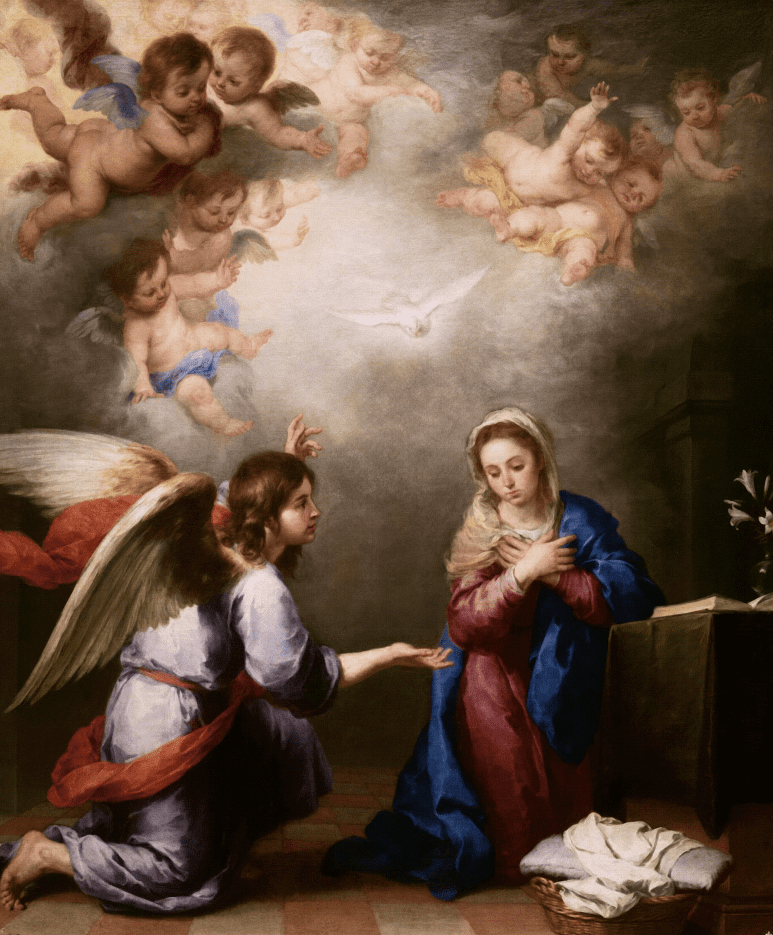 Let it be done to me according to your word!
At the Annunciation, the angel Gabriel said to Mary: "The Holy Spirit will come upon you, and the power of the Most High will overshadow you (Lk 1:35)." The term "overshadow" is rarely used in the bible. One other place it is used is in the Book of Exodus chapter 40 verse 34: it describes a mysterious cloud that overshadowed the tent in which Israel kept the Ark of the Covenant. As soon as the cloud overshadowed the tent, it was filled with the Lord's presence. Luke's Gospel brings to our attention the fulfillment of the Ark of the Covenant in Mary. The Ark of the Covenant contained the tablets of the Ten Commandments given by God to Moses in the Old Testament, but Mary contained in her womb the flesh and blood of Jesus, the Son of God who came to fulfill the Old Law and what has been spoken by the prophets.
In his Apostolic Exhortation in 1974, Pope Paul VI summarized what the Bible tells us about Mary. He said: "The Virgin Mary has always been proposed to the faithful by the church as an example to be imitated… for the way in which she fully accepted the will of God, because she heard the word of God and acted on it, and because charity and the spirit of service were the driving force of her actions. She is worthy of imitation because she was the first and most perfect of Christ's disciples."
It can be said that the Annunciation is Mary's call to discipleship in Christ. When she said yes to God's will that she be the mother of His Son, she accepted the call to become her Son's disciple. Therefore, the Gospel of Luke presents Mary as the first disciple of Jesus Christ; not Andrew, not Peter, not James and John the sons of Zebedee, not even John the Baptist. Mary was the first to hear the call and to accept it. Jesus said: "Whoever does the will of God is my brother, and sister, and mother (Mk 3:35)." Definitely, Jesus was talking about His own mother, who did the will of God by saying: "Let it be done to me according to your word." As she lived on earth, she continued to do the will of God through her faithfulness to her Son, and she continues to do the will of God today through her role as our intercessor to her Son, Jesus Christ.  
This year, the Solemnity of the Annunciation is celebrated on Saturday, March 25. The Holy Name of Jesus Chinese Catholic Mission will have Mass in English at 12:00pm.