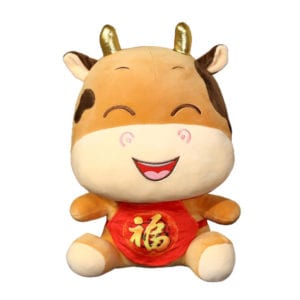 Happy Chinese New Year!
Chinese New Year officially began on February 12, 2021 with the year of the ox. At the beginning of each New Year, there is a great sense of joy and hope for what the New Year will bring. At the Holy Name of Jesus Chinese Catholic Mission, the Holy Mass for Chinese New Year will be at 10:30am on February 14, in lieu of the 6th Sunday in Ordinary Time. This Eucharistic celebration gives our community the means of offering worship to God, in thanksgiving for all the blessings we have received in the past year.
After Mass, Chinese parishioners may participate in a solemn tribute for our ancestors. In Chinese culture, it is very important to respect our elders, both living and deceased. This special ceremony demonstrates how Chinese people pay their respect to their elders. As Chinese Catholics, we acknowledge that our families are a gift from God. Therefore, the respect which we give to our parents, grandparents and ancestors are ultimately directed to God our Father in heaven.
Chinese New Year celebration is never complete without the traditional giving of hong pao or "red envelopes". Just as parents give their children hong pao in the New Year, Fr. Bill gives each parishioner a hong pao as a sign that we are but one family in Christ. Due to safety concerns with the ongoing pandemic, there will not be a reception this year.
---
Lent begins on Ash Wednesday, February 17. Mass in Chinese will be celebrated at 12pm. During Lent, there will be two opportunities to participate in the Stations of the Cross. Stations of the Cross in Chinese, which was previously announced to be held on Wednesdays immediately after the 12pm Mass has been changed to Sundays at 9:45am; the Stations of the Cross in English will still be held on Fridays immediately after the 12pm Mass.
---
Fr. Lou Aldrich has prepared a Lenten virtual retreat for the Chinese communities in the East Coast, which includes New Jersey, Philadelphia and Atlanta. The date is Saturday, March 13 from 9:30am to 12:30pm EST. The theme of the retreat is: "The witness of the martyrs: a valuable assistance to our spiritual life." Registration details will be posted as soon as it becomes available.
---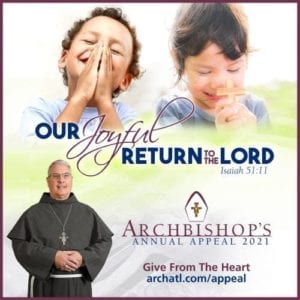 The Archbishops Annual Appeal (AAA) for 2021 has begun. Our goal this year is $5,300. There are 2 ways to give: (1) Send your donations directly to the Archdiocese, indicating Holy Name of Jesus Chinese Mission as your parish. (2) Donate via our church: if you are donating by cash, please use the Archbishops Annual Appeal envelopes, write your name, amount and date. If you are donating by check, please write payment to HNOJ, and AAA in the memo. Thank you for your support!
---
Prayer List:Agnes Lam,Shuang-san Wang,Winnie Lee,Bo Hao Pan,Cao é Shen,Lucky Lee。