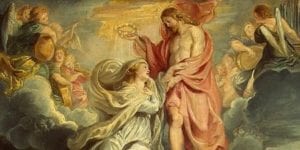 The month of May is dedicated to Mary. The traditional practice of crowning an image of Mary is done on the first of May; however, the Holy Name of Jesus Chinese Catholic Mission will celebrate the May Crowning on Sunday, May 7, 2023 at the 10:30 am Mass.
Why is May dedicated to Mary? It is probably because several feast days which honor the Blessed Virgin Mary occur in May; for example: Our Lady of China (the Saturday before Mother's Day – May 13 in 2023); Our Lady of the Most Blessed Sacrament and Our Lady of Fatima (May 13); Mary, Help of Christians (May 24); Our Lady, Queen of Apostles (the Saturday following the Ascension – May 27 in 2023); Mary, Mediatrix of All Graces and the Visitation of the Blessed Virgin Mary (May 31).
The practice of crowning an image of the Blessed Virgin Mary gained popularity in the 19th century. There are many reasons why queenship has been attributed to Mary; some of the most common reasons are as follows: first, she is the Mother of the Son of God, who is the messianic King. Also, Mary is the perfect disciple of Christ; she consented to God's plan; she listened to God's Word and kept it in her heart; she remained steadfastly in close union with her Son, all the way to the foot of the Cross; and she persevered in prayer with the Church. Thus, in an eminent way, she won the crown of glory that is promised to those who follow Christ.