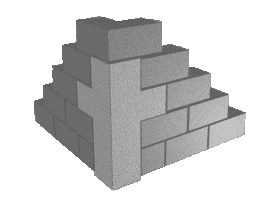 Jesus Christ the Cornerstone
The Parable of the Tenants features a landowner who leased his vineyard to tenants. But when the time came for the landowner to obtain his produce from the tenants, not only did the tenants refuse to give the landowner his due, they even beat, stoned and killed the servants who were sent by the landowner. Finally, when the landowner sent his son to the tenants, they seized him and killed him in order to acquire his inheritance.
Jesus asked the chief priests and elders what the owner of the vineyard will do to those evil tenants. They answered that the landowner will put those wretched men to a wretched death and lease his vineyard to other tenants who will give him the produce at the proper times. Jesus quoted Psalm 118 and said to them: "The stone that the builders rejected has become the cornerstone; by the Lord has this been done, and it is wonderful in our eyes!"(Psalm 118:22-23) Jesus is the cornerstone, but the chief priests and elders chose not to use Him in their building because of their lack of faith and hardness of hearts. Therefore, the kingdom of God will be taken away from them and will be given to a people who will produce its fruit.
Through the parable, Jesus was telling the chief priests and elders that they were the evil tenants who would eventually seize and kill Him. In so doing, they were trying to steal the Son's inheritance. The following verse describes the fate of those who reject Christ: "The one who falls on this stone will be dashed to pieces; and it will crush anyone on whom it falls." (Matthew 21:44) Christians in all ages should see this parable as exhorting them "to build faithfully upon Jesus Christ." At the same time, we should also be filled with hope and security; although the Church at times seems to be troubled, we are assured that it will never collapse with Christ as the cornerstone.
What does it mean "to build faithfully upon Jesus Christ?" What it means is two-fold: for themselves, that every Christian should strive to deepen our own faith, and to live a good and holy life; and for others, that every Christian should lead others to faith in Jesus Christ. Every Christian is called to invite others to enter into the joy of their communion with Christ, but before we can do that, we have to experience it ourselves.