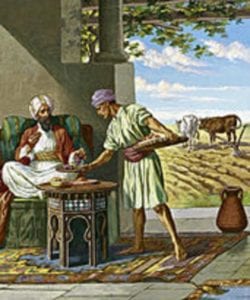 The apostles said to the Lord Jesus: "Increase our faith!" (Luke 17:5) In His response, Jesus confirms their lack of faith by telling them that if they only had the faith of a mustard seed, they would be able to command this mulberry tree to be uprooted and planted in the sea, and it would obey them. Such are the wonders that faith can do! It is in this context that Jesus tells the Parable of the Unprofitable Servant, whereby the "increase of faith" for which the Apostles asked for, was to come through obedience to the Lord's will.
In the parable, Jesus teaches the apostles that if a master is not indebted to his servant for the service which the servant was supposed to do, then neither would the Lord be indebted to His disciples for the service which they are supposed to do. Anyone who thinks that the Lord is indebted to them because of their good works or service is badly mistaken. St. Paul's Letter to the Romans reiterates this point:
"For who has known the mind of the Lord or who has been his counselor? Or who has given him anything that he may be repaid?" (Rom 11:34-35)
 The Parable of the Unprofitable Servant calls us to examine our attitude towards God. One question commonly asked by people is: Why has God not answered my prayers? Why has God not given me what I have asked for? For years, I have been praying for something and God has not answered my prayers. I've been to church, I contribute money, get counseling and read my bible, but nothing seems to work. God continues to ignore me. I still haven't met the right person to marry, or get the job I want, or the healing I want.
Psalm 37 tells us: "Delight yourself in the Lord, and He will give you the desires of your heart. Commit your way to the Lord; trust in Him and He will act." (Psalm 37:4-5) 
Either intentionally or unintentionally, many modern preachers misinterpret Psalm 37 and claim that if we follow God, He will give us the desires of our heart. They are painting a picture in our minds that God is a genie who will grant us our every wish.
The real meaning of Psalm 37 is for us to delight in the ways of God, and not in our own ways! Following God is about changing the desires of our hearts and to desire Him above all else!
If we come to God with the idea that He will give us stuff if we worship Him, then we are in fact saying that we really desire stuff more than His love! That is using God as a means to an end! Being a true Christian is realizing that God is the true desire of our heart and that He is our ultimate objective.
Some people have abandoned their faith because they had an expectation of God that did not materialize. They stop believing in God. But the fact is that those who abandon their faith never took the chance to get to know God, His heart or His plan for us.
It is not wrong to ask God for something, but if our relationship with God is only about getting the things we want, then there is a problem. It is one thing to ask God for something we need, or to pray for someone, or for good to happen in the world, but it is another thing to treat God like a genie and to base our love and service for Him on whether or not He gets us the things we want. The truth is that God has already given us everything we need to get through this life. Jesus told St. Paul:
"My grace is sufficient for you, for my power is made perfect in weakness." (2Cor 12:9)
God gave His only begotten Son to save us, and there is no greater love than what Jesus Christ gave us on the Cross. Christ wants us to follow Him, not so that we can fill our pockets with money, or for Him to be our genie, but for us to know that He loves us by taking on death itself to save us. Christ asks for our hearts because He first gave us His! Only in His perfection can we find rest and fulfillment like no other. So why desire anything else? If we want to find true rest and fulfillment that will get us through the best times and the worst times, then let us turn to Jesus, and allow Him to change us from within. His love will make us live forever.